DESTINATION: DOMINICAN REPUBLIC-Sanctuary Cap Cana Review
Important Note: Since my return from the Dominican Republic, there have been many media reports regarding the safety of travel to areas near the resort. You may do additional research before you make your travel decisions.
Priorities:
Beach
Relaxation/Ease
Beauty
Adventure
Food & Drinks 
I love to travel and I have not met a beach or tropical destination that I haven't loved.  My priorities for this trip were: Beach, Relaxation/Ease, Beauty, Adventure and Food & Drinks. Read below for my insight on how Sanctuary Cap Cana measures up.  This is written as a review from my perspective and with the mindset of what you would need to know if you wanted to visit the resort.
Beach: There is no such thing as too much time on the beach. I live at the beach and prefer to also vacation at the beach. While others are securing a spot at the pool, I go straight to the sand. The beach at Sanctuary is smaller but there are a variety of lounge chairs, day beds and really cool wicker day bed loungers.
There are 2 parts to the beach: The sand and the water. The sand is beautiful white sand so that's perfect. However, the swim area is enclosed with seaweed barriers. The first week of May is the transition of seaweed season. Seaweed would gather on the beach in the morning and would be effectively cleaned up. However, if it rained, the seaweed quickly and drastically gathered.  There are villas on the beach that face away from the resort that were swamped in with seaweed as well as the smaller beach areas on the castle side of the resort.  So, if seaweed bothers you, check the season you are traveling. It didn't really bother us as it was cleaned up pretty quickly (with the exception of the one day it rained and there was too much seaweed to swim). Another important note: there are lots of large rocks (maybe even some concrete blocks) in the water so if you are swimming or walking in the water, they sneak up on you out of nowhere. There were definitely some scraped toes and banged feet. I love to swim so I would have preferred a larger swim area and no large concrete blocks in the water.
Relaxation/Ease: Major score here. Warm Caribbean breeze and unique loungers spread throughout the resort seal the deal. We originally stayed in the standard Ocean View room and that was great. Nice view of the beach and a spacious room. It did smell very musty so we kept the door open anytime we were in the room. For the last few nights, we upgraded to one of the beachfront villas (1010) and that was absolutely amazing. There were 2 sets of double doors that opened right on to the beach with the most amazing view. Adding to the ease is the all inclusive food & drinks. You don't have to carry a wallet around, budget meals or cocktails or worry about where to eat. This helps add to the relaxation. The staff was very friendly and accommodating but not overbearing.
Beauty: I am an aesthetic person. My eyes love to look at pretty things: aqua water, white sand, wicker loungers… Sanctuary Cap Cana has multiple buildings, villas and beach and pool areas so there was something interesting every way you looked. My creative outlet is taking photos. I love to find beautiful spots for backdrops or palm trees to frame photos. This was the perfect place! There were so many little corners with great views that made the perfect backdrops. I could have spent a few more days just to take advantage of all of the interesting spots to take photos. 
Adventure: In addition to total relaxation, I love adventure. This can come in many forms: kayak, stand up paddle board, hiking, zip lining, checking out a marketplace or local hotspot. There was not much adventure to be had here. There were no water activities (small swim area enclosed by seaweed barriers). The Cap Cana area is isolated so there were no recommendations from the resort on a local hotspot to checkout. They actually recommended not leaving the resort. The only adventure that was available was the adjoining public Juanillo Beach. This is a large beautiful white sand beach with one cute restaurant and lounge area. This was a nice walk that ended with the beach at Dreams Resort and just before that is the start of construction for a massive Hyatt resort. So, we scratched the adventure goal off the list and replaced it with additional relaxation and leisurely walks on the beach.
Food & Drinks: I love good food (and tropical drinks). However, when I am staying at an all inclusive, I try not to set my standards too high on the food aspect. I'm glad I did this because the food here was not special. It was fine but it was simple. It lacked Caribbean flavor. There was an Asian restaurant that was good but I didn't travel to the Dominican for Asian food. There was an Italian restaurant that was good but again I did not travel to the Dominican for pasta. There was a steakhouse. I am a pescatarian so I had fish, which was good. The restaurant that featured the breakfast buffet had a fantastic view and there was a wide variety of food but it was all just okay. The best breakfast was the room service we had delivered to the villa and was scrambled eggs with mashed plantains and fried cheese. The best restaurant was the Blue Marlin which offered lots of seafood choices and some Dominican specialties (all meat so I didn't try any). The view here was great as it was on a pier over the water. The bummer is that the Blue Marlin was randomly closed 3 of the nights we were there so we never got to eat dinner there. The best thing about the food was the access to it and the views while eating it. Drinks on the other hand were great all around! Lots of variety and options for upgraded liquors. They offered wine as well which was nice with dinner. There was an additional area called Sanctuary Town that had a pizza place, taco truck and more restaurants. We walked around there a few times but honestly I still don't understand the whole thing.
Overall: This was an amazing trip to an amazing destination. Feel free to reach out for any additional insight or to let us know how your experience was.
Trip: May 2019
One of the cities we are highlighting in our Destination Collection is Nashville. Why did we choose this city? While it's not one of the main cities you think of when you consider the hottest US cities, we think Nashville will surprise you with trendy hotspots, good vibes, yummy food, and kind people. 
Southern Food: Did someone say grits? We love elevated dishes of unpretentious southern classics. For a unique experience, check out Husk.
Music: Come on, who doesn't love a little country music! There is pretty much live music happening 24/7. 
Shopping: Trendy pop up shops and boutiques filled with great finds. Our recommendation Agathos Athleisure. This female owned small business stocks ethical activewear including SoloSol Movement. Shop their curated collections online or catch them popping up all over town. 
Whiskey: If you love whiskey, then sip some of the best in this southern city.
Volunteers: It is said that Tennessee is the state with the most volunteers with Nashville being a high concentration. 
Christmas Eve: This southern city was founded in Christmas Eve in 1779. How festive is that!
Shopping: Trendy pop up shops and boutiques filled with great finds. Our recommendation Agathos Athleisure. This female owned small business stocks ethical activewear including SoloSol Movement. Shop their curated collections online or catch them popping up all over town. 
Chill Vibes: A city filled with kind people and despite the vibrancy, Nashville is surprisingly chill. Kick back, relax and listen to some good music.
The first city we are highlighting in our Destination Collection is Austin. Why did we choose this city? Austin is not like any other Texas city you might imagine, no tumbleweeds, no cowboy boots, no country music and no big hair. Instead, Austin is full of trendy hotspots, live music of all genres, yummy food trucks, and vast rolling hills. 
Austin Food Trucks:  You can pretty much find a food truck on every corner. Two of our favorites: The Mighty Cone- delicious tortilla meals in a cone, an Austin classic. Micklethwait Craft Meats- Texas BBQ at its best, try the brisket, you won't be disappointed and they offer FREE BEER!
Music: Music in Austin ranges from folk to country to ethnic to rap and reggae. Our favorite spots are the Continental Club Gallery a small intimate space for chill and sultry music. Also check out the Historic Scoot Inn, one of the best small, outdoor venues. 
Shopping: You cannot visit Austin without walking South Congress or SoCo as it is called by locals. You will find great restaurants, bars, food trucks, and cute, locally-owned shops. A must see is the iconic Allens Boots for aisles and aisles of western footwear.
Wineries: If you love wine, and who doesn't? The wineries of the Texas hill country are a must do. Drive the hilly, winding roads west of Austin to many wineries including a favorite, Bell Springs Winery.
Hiking and Swimming Holes: It is surprising to people that you can find beautiful hikes and cool spring-fed swimming holes all around Austin. The biggest gem, Hamilton Pool, be advised it gets so crowded in the summer that advanced reservations are required. You can also rent a SUP and paddle down to Barton Springs, this spring-fed water is a refreshing 68 degrees year round with beautiful clear-blue water. Finally, the Greenbelt has amazing hiking and even rock climbing. During the rainy season, swimming holes pop-up all around the Greenbelt.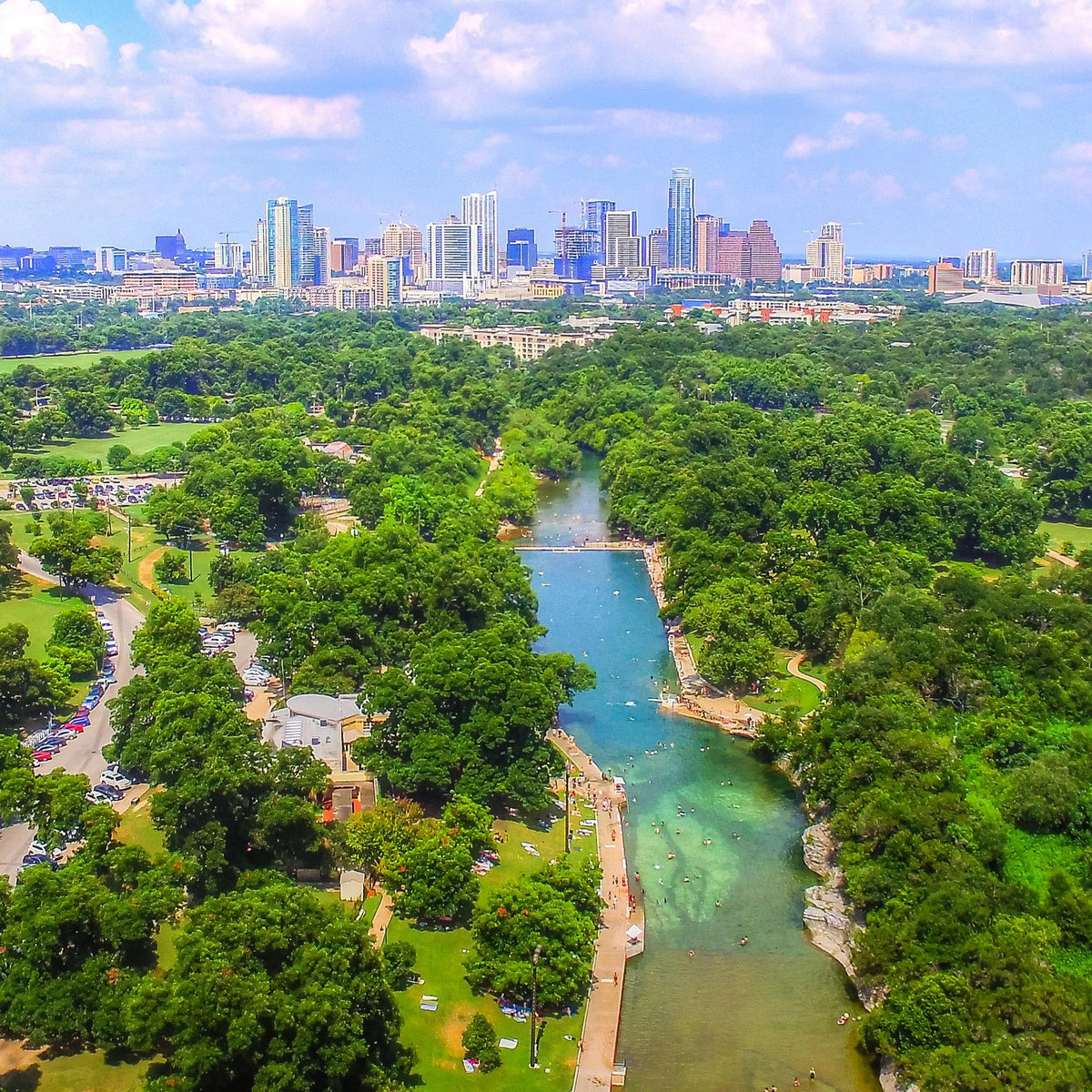 "Party in the city where the heat is on
All night, on the beach till the break of dawn
"Welcome to Miami"
"Bienvenidos a Miami"
As hurricane Irma bears down on Florida, Trina and I reflect on our visit to Miami and Fort Lauderdale only 3 weeks ago. We send our hopes of safety and strength to those affected by the hurricane. I live in Austin, TX and happened to be in Houston when Hurricane Harvey hit. I can say I understand the fear and worry for your friends, family, and neighbors. We love Miami and share with you now our fabulous SoloSol Movement pop-up shop grand tour. XOXO Charlene Solomon
 The SoloSol sisters hardly ever get to see each other. These days of technology allow us to run a business together even though I live in Texas and Trina lives in California. We email, call, text, and skype but in-person visits are rare. When the opportunity to visit Miami for a couple of days came up, we jumped! Of course south Florida is gorgeous and the sisters would get to spend time together! We started the trip with a Ft Lauderdale beach photoshoot, because, YASSS!!! The beautiful waters of south Florida cannot be beat! Don't get us wrong, California beaches are beautiful too but that Cali water is cold cold cold.
Day 2, West Elm Miami Midtown pop-up shop. Our first West Elm event was wonderful! Can you believe that West Elm allows small businesses to setup shop and sell their products in store?!?! We were generously given space on a beautiful dining table near the front window and laid out our current Jungle Goddess Collection. Those of you that know Trina and I, know that we can be quite shy, especially when it comes to promoting ourselves. But the West Elm employees and customers were very friendly and encouraging! It was also a treat to have dynamic duo, Pablo and Cristina stop by the pop up (@highonyoga @murdoc305). This lovely couple has a beautiful acro practice, so of course, Trina grabbed her camera and we headed out to the Wynwood Walls for a photo shoot. Look at these awesome shots we got! We can't say enough positive things about Pablo and Cristina. They are truly special souls! After working up an appetite, we went to this amazing yoga studio/café for veggies burgers… DELILCIOUS! http://lovelifewellnesscenter.com/cafe/
Day 3 was jam packed with 2 pop-ups!!! First stop, House of Yoga, a small, intimate, beautiful studio with a cozy family-vibe. https://www.houseofyoga.com/. The owner, Janelle, is warm, fun and genuine and her studio represents that. We just love that this small studio provides kids yoga classes! What a beautiful mission to help kids learn the many benefits of yoga. Of course, they offer adult classes too. You should definitely check them out! Every one that stepped foot into the studio was so kind from the teachers to the students.
Second pop-up of the day was West Elm Hallandale where we met another amazing team of West Elm employees supporting our small business. We are incredibly thankful! We also had a visit from our lovely ambassador, Sharon @mommyrunsit. We got to meet Sharon's family, who drove all the way down to see us and do a mini-photoshoot. After a long day, we headed to the beach for cocktails and seafood with a view of the beautiful Miami Beach waves crashing.
Our final day, we woke up early to do a photoshoot but it was raining! But a little rain never stopped the SoloSol Sisters, so we covered the camera with a towel and ran around in the rain and splashed in the ocean. Then we headed to West Elm Dadeland for our final pop-up shop. We met some great customers including a coincidental encounter with a good friend of our ambassador Pablo who recognized him from our huge banner. Funny, right? Our final dinner was some delicious Cuban food at a restaurant where we got to practice our Spanish. (Still craving the food) We spoke more Spanish in Miami in a few days than we did in the last few years. We absolutely LOVED it! Fun fact: I studied abroad in Alicante, Spain and used to be almost fluent in Spanish. Trina and I used to only speak to each other in Spanish.
We headed back to the hotel in Surfside to finalize samples for our upcoming Majestic Nights Collection and get some rest for our 5am flights. We were sad to leave this beautiful place, but happy we got to spend the weekend together and meet wonderful people. ¡Adios Miami!
Last week I had the privilege of taking a tour around the factory in Bali where Solosol Movement creates and manufactures their clothing line. Located in complete paradise, it makes sense why most of the prints that Trina and Char create emulate the environment.
Arriving at the factory I was greeted by Yuli, the manager who wore a bright smile on her face as she welcomed me inside. I was shown to the meeting room and chatted with her while we waited for Reina who is the niece of the factory's owner. Once Reina arrived, we began what I thought would be something like an interview but which turned out to be more like an engaging two hour conversation about fashion, life, yoga, pilates and of course Solosol! I found out that Yuli has been a part of this factory for sixteen years. Reina came on board a few months back to take over the other managing position while her aunt is away for travel. I was so excited to hear about how much of a family run facility it appeared to be and it truly was such a delight getting to know these women. From them I was given a unique insight into the world of fashion production.
After we chatted and the employees came back from lunch break I was shown around the factory. It opened its doors in 1993. The facility is 900 square meters but with plans to expand within the next year to keep up with demand. There is a total of 41 employees including the managing staff. It is a female dominated work environment - the employment ratio is roughly 80% female and 20% male. When I asked Reina why that is she told me that in Indonesia there is actually a higher percentage of females to males.
I began asking her more in-depth questions about the employees and her responses to questions made me really happy to hear. They are an equal employment opportunity run facility with employees of various backgrounds and currently have two people there with disabilities who had no experience prior to working there in fashion, but were given proper training and are now flourishing in their work. After hearing that, it came as no surprise to me why there are some employees that have been there as long as 20 years! Every person who is hired is able to choose which station or machine they wish to work on and then trained accordingly.
Their work hours are from 8am to 4pm six days a week with an option to work the seventh day. I asked if a lot of employees chose to work the overtime and she said yes because they are paid and compensated appropriately for their extra time and dedication to the company. Reina said that by providing choice in stations and offering fair pay, it inspires longevity for every employee and creates a more family like atmosphere within the factory life.
As I walked around the factory most of the women were laughing and chatting with one another while creating the products. It was awesome to see such a lively atmosphere within the building. When I pictured fashion production facilities I never quite imagined what I was shown at their factory. All employees there seemed really happy and enjoying what they were doing. It was really heartwarming to experience. I could see why Trina and Char chose this place to create and manufacture their line of clothing.
I asked Reina why they like working with Solosol Movement and both she and Yuli smiled stating that both Trina and Char are understanding, nice and awesome with communication. Reina went on to further say that it is fun to work with Solosol because she shares a similar taste in design and print style for active wear. I asked if there were any complications in working with companies outside of Indonesia and she said there aren't many issues if any. Trina is amazing at communication and both women have a quick and efficient response time which makes the production run quite smoothly. The women also enjoy getting once a year visits from Trina and Char while they come to QC their current clothing line and also design samples for new upcoming lines.
To create an entire line of clothing for Solosol it takes three machines, three different workers and a quality control team (which is usually Yuli and Reina) overseeing each station as each piece is manufactured. It takes one week to make a sample for a new article of clothing and once the fabrics and design are ready to go it takes roughly thirty to ninety days to get all the pieces boxed up and shipped out!
I continued touring the factory for about an hour and as I left I was really stoked to write this article. I am so happy that I was able to visit their factory and meet all the women there. It is inspiring to see Trina and Char's designs come to life in such a great work environment. It's no wonder why I always feel so loved when wearing their clothing. It is created in a place full of happy people.
I always knew Solosol Movement was special but it really made me smile to see how much care and thought went into choosing such a lovely place to create their clothing. I am so proud to be a part of the Solosol Movement and work with really lovely humans who are impacting the fashion world in a positive way by being mindful about where and who produces their clothing.